Blog
Unlocking omnichannel's potential in pharma:
Lessons from innovation in the retail sector
>
>
Unlocking omnichannel's potential in pharma: Lessons from innovation in the retail sector
Published by Signum, October, 2023
In the retail sector, the adoption of omnichannel strategies has reshaped customer experiences – so, putting aside the different regulatory and compliance settings between pharma and retail –pharma companies can gain valuable insights from retail's efforts in the field. But how can the retail sector's experiences with omnichannel strategies inspire and enhance the pharma industry's approach to delivering a cohesive and personalized customer experience? Get the hands-on learnings and fresh perspectives from Jesper Kirkemoe Jørgensen, Group CEO hos Wellvita Group, (formerly Matas and Salling Group) here.
The term omnichannel has been making waves across the pharma industry lately. The concept embodies a comprehensive approach to customer engagement where various communication channels and touchpoints are integrated to deliver a cohesive, personalized, and efficient experience – putting the customer at the center of it all.
Many pharma companies are already reaching HCPs and other stakeholders through well-tested and solid multi-channel marketing and sales setups. Yet, regardless of the many additional benefits of an omnichannel strategy, many pharma companies are still hesitant to make the transition from multi-channel to omni-channel, with some of the main barriers being the high level of cost related to the change, regulatory concerns, and a complex go-to-market and delivery model.
But in the retail industry and e-commerce, omnichannel strategies are already in motion in large-scale companies – offering the pharma industry with the tried and tested methods and learnings that have gained foothold in retail. This begs the question: what can we learn from other industries, and how significant is the potential for pharma?
A change in strategy at Matas
At the Lif Group's annual Life Science Meetup, Jesper Kirkemoe Jørgensen (Independent Consultant in Digital Business Development) shared his insights and experiences with implementing omnichannel thinking and tools in a retail setting, namely the Danish retail company, Matas. As one of the biggest players in their industry, Matas had a solid customer base when Jesper first joined. But this foundation was built largely on and around the physical brick-and-mortar customer experience and as consumer behavior was pulling in a more digital direction, new online-based competitors were starting to gain foothold in the industry. So, a change in strategy was needed. In Jesper's words, an omnichannel strategy holds an enormous potential to connect consumers and companies. This article builds on his presentation at Life Science Meetup in August 2023 and explores his insights from a pharma perspective.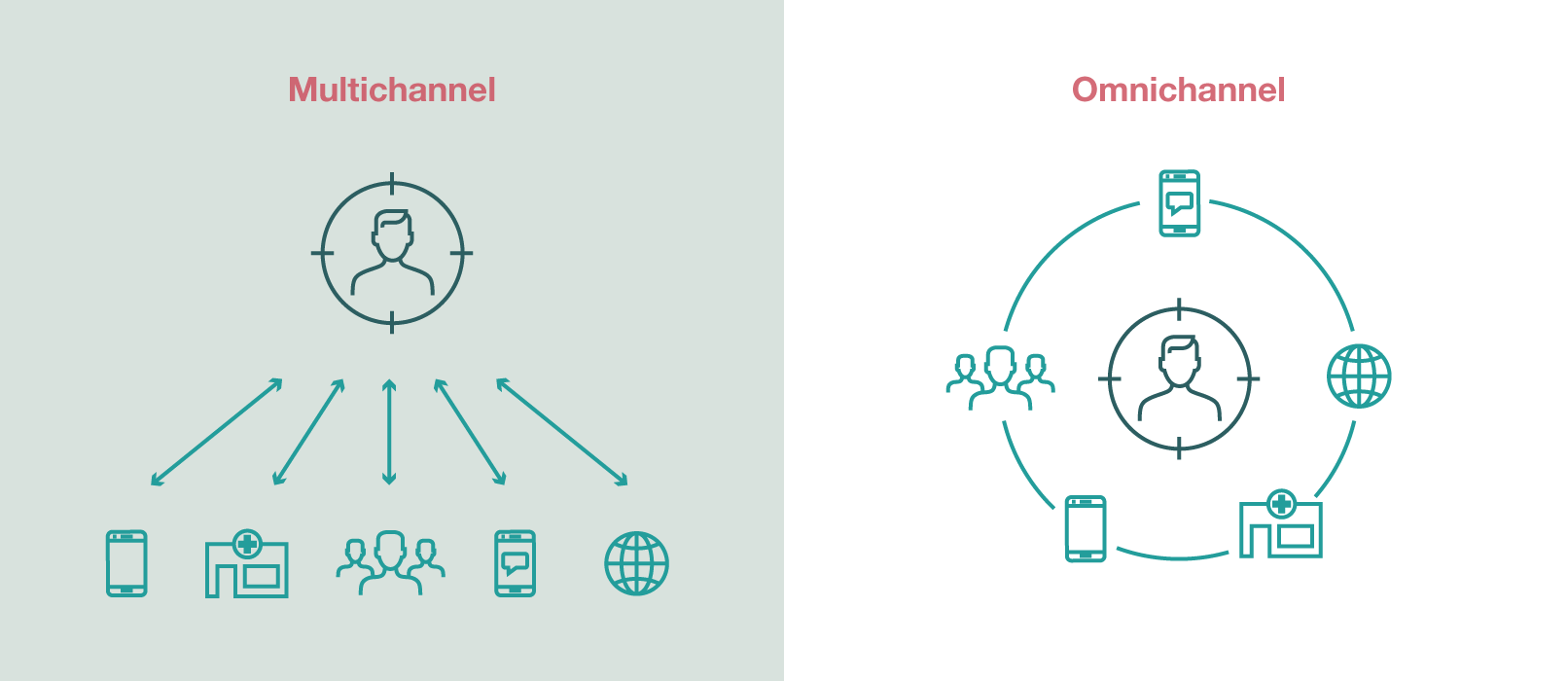 One of Jesper's first points is that you need to clarify what is meant by the term "omnichannel" in your organization:
"Omnichannel is a fairly old word in the retail industry. But before you can define your strategy, you need to distinguish between multichannel and omnichannel.
With a multichannel approach you have several channels or customer touchpoints – but they are not integrated and most often work in parallel with each other. On the other hand, an omnichannel approach puts the customer at the center with all available channels integrated and connected to create a user experience without any friction. If you as a company succeed in combining your available channels via good IT integration and transparency, you've got a foundation for making omnichannel a useful tool for enhancing the customer's experience."
Multichannel approach allows you to reach your customers through all available channels, but without the possibility of segmenting or timing your communication to the individual customer – and with a risk of over-communicating with irrelevant or untimely messages. On the other hand, and omnichannel approach builds on the idea of creating an interlinked, seamless, and coherent experience across all channels – reaching your customers or stakeholders where they are. Based on this definition, Jesper points out that many of us say "omnichannel" when, in reality, we are talking about a multichannel strategy.
Jesper continues:
"In my experience, building an omnichannel platform can be complex. For some companies it can be an advantage to first reap the low-hanging fruits by succeeding with a multichannel strategy before transitioning to omnichannel. But, if you're looking for a platform that truly makes a great experience for your customers, omnichannel is the way to go."
Matas' three challenges and their solutions
The transition and implementation of an omnichannel strategy in Matas did not happen overnight. Similar to what we see in the pharma industry, they faced a number of barriers going into an omnichannel setup:
1. "The old way of doing" was becoming an obstacle for the changes they wished to make
2. 95% of revenue still came from physical stores and they did not have the digital foundation to support the digital customer demand
3. The organizational structure reflected both of these challenges
Jesper explains:
"When launching the platform for Matas, we had three specific challenges: The first was a lack of renewal and Matas faced stagnation due to the hesitation to embrace digital innovation and a wish to reduce risk. To tackle this, fostering an innovative culture and new digital solutions was the key to success.
Second, Matas had 95% of their revenue from physical stores so, we wanted to build on that and use digital channels to further elevate that customer experience as well. As examples, we created different digital tools that made it possible to bridge the online and in-store experience.
Third, in my experience, Matas had a siloed organizational structure that was built with the physical stores as the center. Gaining success with an omnichannel strategy required restructuring to create an organization with more digital competences and cross-collaboration."
Overall, the face-to-face experience is still as important and relevant as ever. But growth lies in the digital space. The trick is to succeed in how to let the digital experience support and extend the physical.
PowerPoints won't get you there
Jesper also highlights another important part of making an omnichannel approach a reality:
"Omnichannel should not be merely a strategic concept. Plan for execution and ensure that your company is committed to making it a reality. Integration and implementation across all levels are vital for success.
Your omnichannel strategy must not be something that only exists in Power Point presentations and strategic plans. Execution should be a focal point when working with omnichannel. Finally, my best advice is that digital transformation such as building an omnichannel setup must be anchored in the company as a whole – not only in specific departments."
But where to start?
While many pharma companies are well-aware of omnichannel possibilities, the transition from multichannel to omnichannel can be filled with complications. As Jesper says:
"It's no secret that the transition to omnichannel requires careful consideration and a well-thought-out strategy. Begin by evaluating your current marketing and sales channels to identify when and where to focus your efforts. If some of your channels and IT integrations are not working properly, make sure to fix those. Additionally, if your users already have preferred ways of interacting with your organization or some of your channels offer you a competitive edge, make sure to further test and amplify those.
When using an omnichannel strategy to pinpoint your existing core competencies and expand – or enhance – your current services, you can learn and adapt while building a foundation for future innovations. Again, it's important to add that the transition to omnichannel should be a thorough integration for the whole company. Ensuring that the activities in our omnichannel initiatives are fully integrated with the overall business strategy and involve all relevant departments."
Could the tech industry beat us to it? And two other important considerations to make
Finally, Jesper shares three crucial reflections before venturing into an omnichannel strategy – no matter if you're a retail or pharma organization:
1. Disruption vs. transformation: Does the market demand a new business model or just new ways of interacting with customers? In Matas' case, digital transformation became inevitable because the sector was changing: Consumers were becoming more digital and new players were entering the market. What happens in pharma, if – or when – tech companies gain more influence on the health space and their offers go beyond monitoring sleep and heart rate?
2. Customer journeys in omnichannel are complex, partly because they include both "behavior" and "technology". Make sure to see the bigger picture and prioritize a few areas in which to start.
3. Get more people from your organization involved: Too often, you don't have enough people pulling in the same direction when it comes to the digital or omnichannel agenda in your organization. You need a mix of the digital skill sets and cross-functional collaboration to succeed with your omnichannel strategy.
Did you find this interesting?
Then sign up for our newsletter and get more insights like this directly in your mailbox
---
Want inspiration?
See how some of our customers profited from working with us:
Read the case on how we helped Novo Nordisk tailor the dialogue with each individual HCP in relation to planning their product launch.
Read the case on the RWD-analysis we conducted on behalf of Medice Nordic Denmark Aps to provide insights into treatment strategies.
Read the whitepaper "Beyond Real World Evidence" to learn how you can improve utilization of Real World Data throughout an organization